Yes….again!
Baby fever hit just after Brinn's 6 day stay in the Children's Hospital after the Easter episode. I must be a masochist or something. At the end of April after our trip to Vegas, I told bob how much I wanted another baby. He thought I was completely and totally bonkers. Four kids? Who these days has FOUR kids? We're not even *really* all that Irish Catholic! He said no.
I had my double hernia operation, and moved on to May. Still a no. June? No. I begged some more during July. Nope, not having it. He would say things like, "maybe in a year or 2." BUT…we were behaving like Irish Catholics in the birth control department.
and that means only 1 thing,
Exhibit B: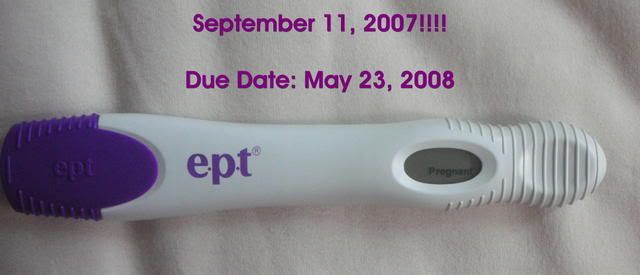 I test + on Tuesday, 9.11.07 at 9am!

I first pee'd on a FRER. Immediately, a tiny, barely visable pink line popped up.
No way. Is it real? No way. I took it over to the bathroom window sill. It was still there. I bent the test to the left, and then to the right. Hmm, maybe I see it still. I rubbed my eyes. I went into the bedroom. I flipped on the light, opened the curtains. Geesh, it's REALLY light. Is it really a line? I took it apart. Yes, there's a "sorta line." Is it a shadow? Don't get excited.
I hear, BANG *BANG* BANG!!!!!!!!!! Bryce missed the bus. Shit!
I ran downstairs, and let him in. now I have to drive him to school. Hmm, I'll hit Walgreen's and get a digital. Those don't lie, right? This line guessing game is for the birds. I had to pee so bad, but we had to save that liquid gold for when I got home!
Dropped him off, got to Walgreens. Sped home. Peed on test. Pacing. Pacing. Looking, hour glass. Look again, still hour glass. Hasn't it been like 30 minutes? This is NOT taking 3 minutes. I got in the shower. I figured, that stupid thing will have my result by the time I wash my hair. I get out. I see it stopped blinking. PREGNANT.
I was leaving town that Friday, the 14th for Tara's baby shower. I took the precious little test, placed it in a shoe box and wrapped it in birthday wrapping paper. Bob came home for lunch and I was packing. He asked what the box was, and I handed it to him.
Happy birthday.
Why birthday? Because his birthday is May 23rd. According to the chart online, it's my due date.
Sweat started to bead on his forehead. He didn't need to open it. He sat down, and I started laughing.