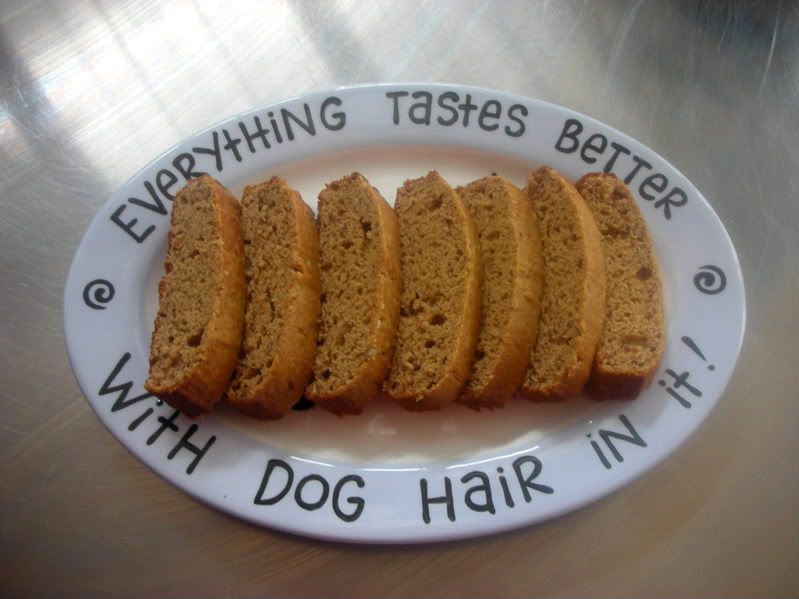 I have had lots of compliments on my banana bread, and even my kids love it.
I just made 2 loaves, and thought I would share the recipe for my family members who have had it and like it.
If it is crap, and you lied to me, continue lying. Like I said, at least my children eat it. :)
Heather's Banana Bread
2 cups regular flour
(whole wheat does not work well)
1 1/2 tsp baking powder
1/2 tsp baking soda
1/2 tsp cinnamon
dash of nutmeg
1 cup sugar
2 eggs
add as many bananas as are rotting on the counter
1/2 cup applesauce (this is why mine is good)
1/4 cup walnuts if you like them. I add them if I have them.

Grease up the 2 baking loaf pans.

I add all of my dry ingredients in a bowl and stir them around.

I throw the bananas in my cuisinart and mash them, add eggs, blend them in, then the applesauce.

Poor the liquid goo in with the dry stuff.

Add my ground up walnuts. (maybe)

Mix. Pour. Bake.
My oven takes about 50 minutes on 350, but we all know ovens are temperamental so figure it out for yourself.

And in honor of Brinn, a song for you!
(shows like this are the reason parents are medicated) Thank You, Yo Gabba Gabba.