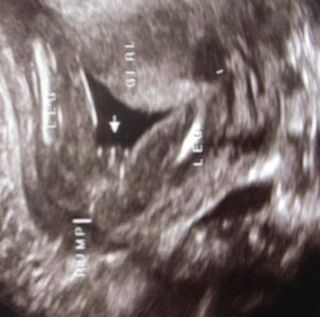 Bob, my mom and I left for the doctor's office first thing the morning after Christmas.
Today was the BIG determination day.
Bob was sure it's a boy, I'm thinking girl.
Bob is ticking me off and taking calls during the entire ultrasound.
What a beautiful baby. Measuring perfect. Long legs. Over a pound. Oh wait…w a i t. I see it. I turned to Bob and said, "looks like you'll be paying for another wedding." He looked at me, my mom laughed, and the tech finally says, "I'm
tryin
'
reaaaal
hard to find you a penis, but this baby is 100% girl".
Basically, a reason to freak me out for the rest of my pregnancy, and for them to constantly monitor me. I was put on a high fat diet to be sure she'd gain weight. I was encouraged to stay off of GOOGLE and the internet.
Right, the first thing I did, GOOGLE. Big mistake!